Delonghi has been leading globally for over 30 years in the field of coffee. Delonghi is sophisticated, reputed name in the field of home appliances. Delonghi products are well made, well priced and have long spending reputation. Their machines are made with the user in mind, brew a unique cup of espresso at a press of a button. Delonghi's espresso machines are compact, elegant and simple to use. Delonghi makes elegant and simple to use machines to bring the concept of versatility and convenience to your kitchen without compromising on quality. Delonghi espresso machines are designed to be easy to clean and its compact design look great in kitchen's countertop.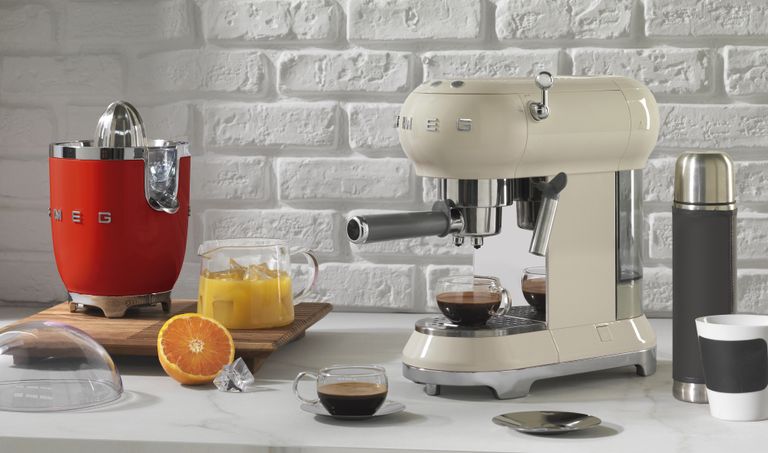 Why choose Delonghi?
Delonghi offers a customizable espresso experience
Delonghi machines are deigned to be easy to clean
Compact design and high quality look beautiful as countertop display
Delonghi machines features are programmable, every time, get the perfect brew
Many delonghi espresso machine come with grinder
Comes with one year warranty
Provides best customer service for questions, return or comments
Friendly use for beginners and experts
Delonghi two best espresso machines
Delonghi America ECAM28465B Prima Donna Super Automatic Espresso Machine
Delonghi's all products have well reputation, but this Prima Donna espresso machine is delonghi's best machine equipped with new programmable technology that delivers a super thick, long lasting and rich espresso crema. Since its features are made of advanced technology the machine cost a bit more. If you buy this machine you will never need to buy an espresso machine ever again.
Here are the features of Prima Donna Espresso Machine
It has a one touch brewing process
Its memory is programmable which remembers its setting.
Its include with high quality bean grinder
It has programmable start time, temperature, auto off, brew strength and even water hardness.
Coffee based drinks, espresso and hot water for a cup of tea; this machine does the lot
It has steam wand and milk frother
It has a separate milk reservoir
Second option
Delonghi Magnifica ESAM3300 Super Automatic Espresso Machine
Delonghi Magnifica ESAM3300 espresso machine is another super automatic machine which has the best features. It can be replaced with the above espresso machine if you look at built quality and features. The only thing this espresso machine lacks is a really cool exterior design.
Features of Delonghi Magnifica ESAM3300 Machine
It has a bean grinder, 60 ounce removable reservoir
It is a dual boiler machine
Fully programmable
Easy to clean
It has frother system that mixes milk and steam to create a rich and creamy froth
The Magnifica espresso machine is perfect programmable espresso machine for beginners because of its simplicity. Magnifica brews a yummy coffee with rich flavour and crema. The Magnifica is the ideal blend between super automatic espresso machine and coffee maker. This machine will deliver a quick, delicious, convenient espresso drink with no time preparation and hassles. If you only drink espresso, this Magnifica Espresso machine is for you.